Sponsorship
Dear Blueline,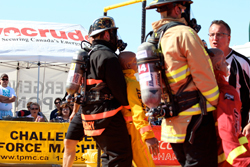 I am writing to extend my thanks and gratitude for your support in assisting me to compete at the 2011 Firefit Nationals in Medicine Hat , Alberta. This was a fantastic experience made possible by your support.
Through the event I felt confident and knew the weeks of training and sacrifices were worth it. The regional competitions were tough but I made it through to the nationals. Although, I didn't place first, I did achieve my goal of improving my time and I look forward to applying the skills I have learnt in the upcoming years.
Thank you for your ongoing support, it is greatly appreciated and valued. The outfit that I am supplied with through your donation is of the highest quality and really gives me an edge. I look forward to continuing to strive towards my goals and the upcoming Firefit challenges knowing that I have the awesome support of Blueline Oilfield Rentals.
Thank you again and I look forward to continuing to be in touch.
Sincerely,
Derek Seitz